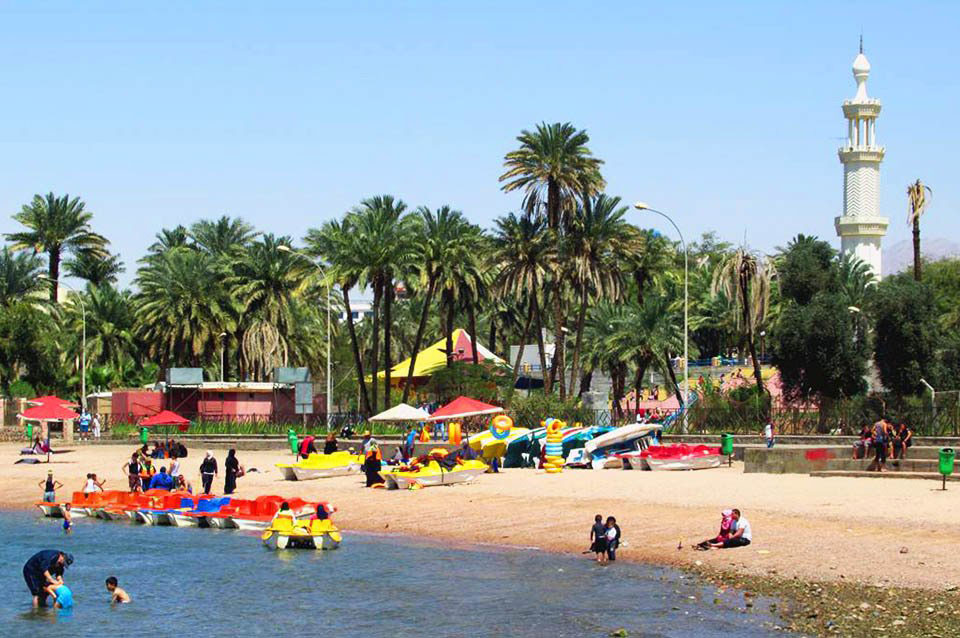 The coastal city of Aqaba communicates to the visitor both striking beauty and grace. Touching the Red Sea are a series of peaceful mountains and a riveting desert reflecting onto the clear blue waters. Stretching along the northern beach, the Gulf of Aqaba measures a length of 180 KM and expands to a width of 25 KM with 27 KM of the shoreline belonging to Jordan. The rest of the shoreline is shared with Egypt, Saudi Arabia, and Israel. A boat ride to the centre of the Gulf provides a visitor with an outstanding simultaneous view of all four shorelines at once.
Aqaba has different beaches that attract visitors each for a particular aspect it possesses. The Middle Beach charms its visitors with its truly local feel and cafes.  As for the southern beach zone it is be the best choice for snorkeling and diving where you may catch a glimpse of vibrant species It is ideal for diving seekers and enthusiasts as it provides many of the most popular and affordable diving centers who teach diving and organize diving trips from shore and boat.
Visitors are advised to wear booties or water friendly dive shoes here since there is some stone and gravel mixed in with the sand. Aqaba is very sheltered; there is rarely any wave action, therefore the beach sand isn't the same as in other rougher regions.
29.52570477535, 35.000573820681