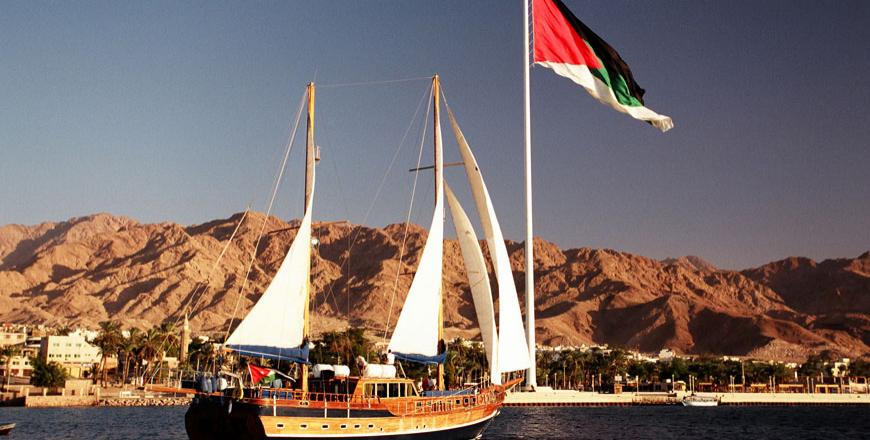 Your tour of Aqaba's historical sites culminates at the Great Arab Revolt Plaza. This huge square is a great space to relax and enjoy the views of the middle beach, and as such is considered an ideal escape for visitors ple.
The opening of the Suez Canal in 1869 deprived Aqaba of much of its former commercial glory. The town languished as a quiet, out of the way fishing port until the early 20th century, when Aqaba regained its strategic importance when Prince Feisal and his English allies captured the city from Ottoman control in July 1917. It became an important headquarter from where the Arab forces harassed the retreating Ottomans, with the assistance of T.E. Lawrence (known as Lawrence of Arabia).
By the mid 1950's, Aqaba flourished yet again as Jordan's only outlet to the sea. Today, Aqaba is home to some 188,000 people and boasts a modern port and an industrial zone, carefully located further down the coast away from the tourism areas.
The importance of the Plaza lies in its historical value. It embraces the flag of the Great Arab Revolt, and the house of the Leader of the Arab Revolution, Al Hussein Bin Ali. It bears a deep significant national symbolism as the first Jordanian land set foot on by the armies of the revolution led by Al Sharif Hussein bin Ali. It is also the site where the first bullet of the Arab Revolt was shot.   
The fort is now home to the Giant Flag, it proudly displays the Great Arab Revolt flag. Each color represents a meaning and drive for the revolution, with red symbolizing the blood of the martyrs, green for peace and sustainability, black signifies oppression, and white for the bright future. It is also said that the colors represent past reigns witnessed by the Arab region, with red for the Macca dynasty, green for Fatimids, black for Abbasidi, and white for the Umayyad.
Standing at 130m, the Aqaba Flagpole is the sixth tallest unsupported flagpole in the world. It can be seen from surrounding countries. The flag symbolized the Great Arab Revolt in 1916, when Sherif Hussein`s forces fought for their independence from the Ottoman rule.
29.521427762357, 35.000581140413