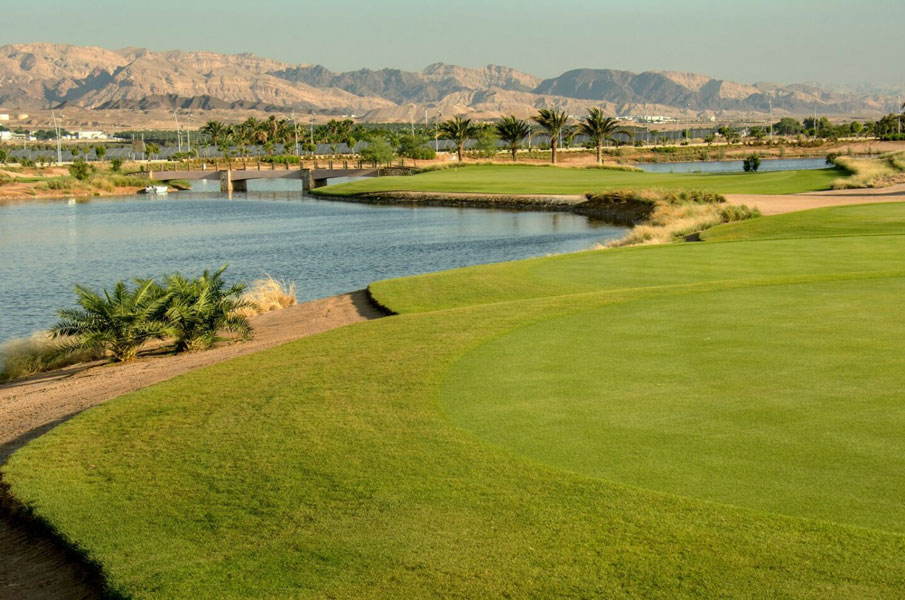 Designed by the legendary Greg Norman, Ayla Golf Club boasts an 18-hole (par 72) championship course and a nine-hole (par 27) floodlit academy course.
AYLA'S AWARD WINNING GOLF COURSE:
Ayla's Signature Award-Winning Golf course extends over 800,000 square meters, comprised of rolling green fairways dotted with crystalline lagoons and thriving ecosystems, alongside significant elevation changes and holes playing in all directions. The Golf Club includes a Golf Academy offering first-class private, group teaching, and practice services by PGA-qualified professionals to all golfers, fresh or professional.

GREG NORMAN:
Ayla's Signature Award-Winning Golf course was designed by Greg Norman, also known as the 'Great White Shark,' after winning more than 90 tournaments worldwide and arguably being the most successful athleteturned-businessman in the world. Greg Norman Golf Course Design (GNGCD) is recognized as the premier signature golf course design firm in the world, featuring over 100 courses opened across 34 countries and six continents, with many having won prestigious design awards. Notable for his environmental stewardship, Norman's 'least disturbance' design philosophy creates golf courses that enhance their surrounding environment and highlight each property's natural features.

ECO-FRIENDLY COURSE DESIGN
The golf course was carefully designed with Jordan's unique ecological topography in mind by creating a series of man-made lakes and wadis that act as reservoirs for groundwater irrigation whilst becoming integral features of the course design and layout. In addition, these water bodies are providing a stopover for migrating birds which compliments the natural ecosystem we have created.
golf Design
DESIGN & ARCHITECTURE
The Ayla Golf Club's impressive and inspiring architecture was designed by the elite Oppenheim Architecture & Design firm, recognized globally for social and environmentally conscious architecture. In paying homage to the ancient architectural heritage of the Bedouins, the club house is made of waves of concrete, rising and falling in an organic, contemporary style. The innovative and distinct design of the building forms the iconic core of the Ayla Oasis destination.

FACILITIES & AMENITIES
Ayla Golf Club features a comprehensive array of facilities and amenities, including:
18-hole championship golf course – 7,152 yards, par 72
9-hole fully floodlit academy course – 1,085 yards, par 27
Indoor swing and putting studios, plus dedicated practice
grounds with grass teeing area, practice putting greens, and short game areas
Ayla Golf Academy Clubhouse with PGA-qualified instructors
Boutique retail shopping and club repair workshop, conveniently located next to 'Silica' all-day bar and restaurant
SERVICES
Learning to play golf can be a tough challenge, that's why we've set up a topclass academy to get you into the swing of things. Enjoy a wide array of services and lessons provided by our PGA qualified professionals, getting one step closer to where you want to be.
Individual and group lessons
Corporate team building days
Club Repair and Game Tuning
Track Man and SAM Putt Lab
AWARDS
Top 3 Eco-friendly/Sustainable courses in world
Ranked in top 10 Courses in Middle East
Best clubhouse design
 
29.561309013694, 34.991755566107